OUR MUSIC TODAY
Sunday, January 19, 2020
The choir sings a beloved chorale from J.S. Bach's cantata "Heart and Mouth and Deed and Life".  A literal translation of the original text reads:  "1. What joy for me that I have Jesus; oh how firmly I hold to him so that he may renew my heart when I am sick and mournful. I have Jesus, who loves me and gives himself to me for his own. Ah, therefore I shall not let Jesus go, even if my heart should break.  2. Jesus remains my joy, the comfort and life's blood of my heart.  Jesus defends me against all sorrows, he is my life's strength, the delight and sun of my eyes, my soul's treasure and joy; therefore I shall not let Jesus go from my heart and sight."  Over a running accompaniment the melody is divided into short segments, each presenting a single clause of the text.
Below: First manuscript page of Bach's famous chorale from the cantata Heart and Mouth and Deed and Life
CHRISTMAS 2019, BELOW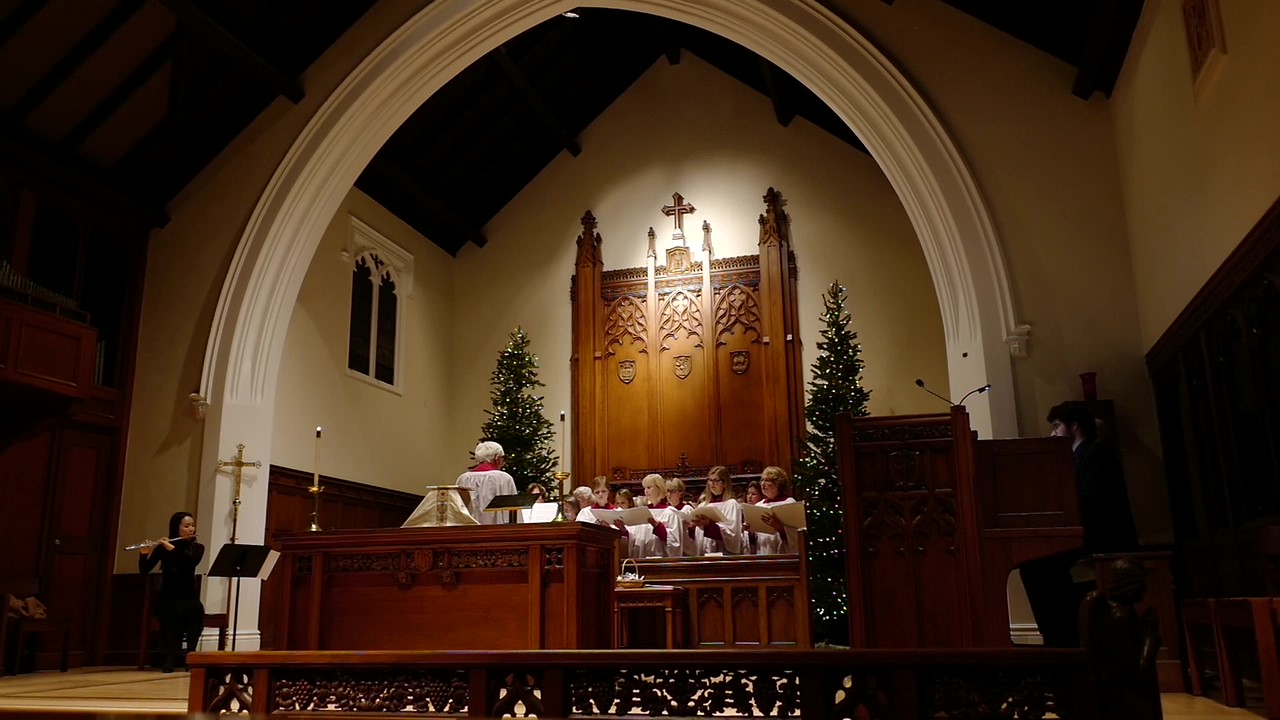 The 2019 St. John's Christmas Choir sings the Choral Prelude, Christmas Eve.
Benjamin Britten: from A Ceremony of Carols (text: Antiphon to the Magnificat)
Hodie Christus natus est; Hodie Salvator apparuit:
Hodie in terra canunt angeli Laetantur archangeli
Hodie exsulant justi dicentes: Gloria in excelsis Deo,
Alleluia! Alleluia! Alleluia!
Ralph Vaughan Williams: Fantasia on Greensleeves (text: William Dix, 19th c.)
Peter Warlock: Adam lay ybounden (text: 15th c. English)
Adam lay ybounden, bounden in a bond;
Four thousand winter thought he not too long.
And all was for an apple, an apple that he took.
As clerkës finden written In their book.
Ne had the apple taken been,the apple taken been,
Ne had never Our Lady, a-been heaven's queen.
Blessed be the time that apple taken was!
Therefore we may singen Deo gratias!
Peter Warlock (text: Bruce Blunt), from Bethlehem Down.  Betsy Bennett-Smith, soprano
When He is king they will clothe him in gravesheets,
Myrrh for embalming, and wood for a crown,
He that lies now in the soft arms of Mary
Sleeping so lightly on Bethlehem Down.
Here he has peace and a short while for dreaming,
Close huddled oxen to keep him from cold,
Mary for love, and for lullaby music
Songs of a shepherd by Bethlehem fold.
Gustav Holst (Richard Proulx / text: Michael Perry), O God, beyond all praising (on Thaxted)
Adolphe Adam (English text: J.S. Dwight), O Holy Night. Betsy Bennett-Smith, soprano
Franz Xaver Gruber/Carl Reinecke (Joseph Mohr) Silent Night (congregational hymn)
OUR ORGAN
In 1961 the Aeolian-Skinner Company of Boston installed the two-manual, 34-stop forerunner of our present sanctuary organ.  In 2001 J. Nelson and Company enriched the instrument by the addition of 61 digitally-sampled voices and a 3-manual console from the Allen Company in Pennsylvania, allowing the performance of repertoire ranging in style from baroque to contemporary.  The dedicatory concert of the present organ was given by the late Dr. Philip Hahn, then Music Director at St. John's.  Images of the instrument may be viewed here.