OUR MUSIC TODAY
Sunday, November 17, 2019
Belgian-born César-Auguste-Jean-Guillaume-Hubert Franck (1822–1890) represents the half-generation of romantics before Brahms (b.1833):  Mendelssohn (b. 1809), Liszt (1810), Schumann (1810), Chopin (1810), and Wagner (b. 1813) – who were all born within four years of each other.  More significantly, Franck's compositional style includes universal elements representing a meld of the great French and German expressions, as well as a progressive chromaticism that would dominate all European music (even that of the conservative Brahms, to an extent) as it moved towards the early twentieth century.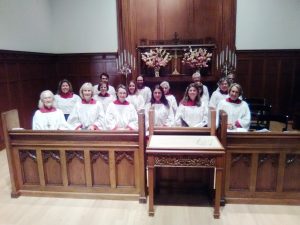 St. John's Adult Choir, Spring 2019
OUR ORGAN
In 1961 the Aeolian-Skinner Company of Boston installed the two-manual, 34-stop forerunner of our present sanctuary organ.  In 2001 J. Nelson and Company enriched the instrument by the addition of 61 digitally-sampled voices and a 3-manual console from the Allen Company in Pennsylvania, allowing the performance of repertoire ranging in style from baroque to contemporary.  The dedicatory concert of the present organ was given by the late Dr. Philip Hahn, then Music Director at St. John's.  Images of the instrument may be viewed here.