OUR MUSIC TODAY
Sunday, October 20, 2019
Organ and choral music today comes from England.  The anthem was written by the famous Tudor (or Elizabethan) master William Byrd.  As with many religious works, it was derived from a popular form – in this case, the galliard, a dance known throughout the British Isles and central Europe.  Orlando Gibbons, composer of our prelude and postlude, actually came of age after the death of Elizabeth I and was thus, strictly speaking, a young master in the Jacobean period.  Musicology tends to group together the gamut of English composers from the time of John Dowland (b. 1563) to that of Thomas Tomkins († 1656), although they represent a number of styles.  Incidentally, at the ROSS ARTS concert next Sunday (Oct. 27) listeners will enjoy a more in-depth experience of John Dowland's unique song style.
Announcing Ross Arts at St. John's, Season Two!
Ross Arts opens its new season on Sunday, October 27, at 3pm in the Parish Hall. Special guests from Seattle will be Joseph Gottesman (viola), Yuka Gottesman (piano), and Hana Gottesman (violin), joining SF Conservatory Professor Paul Hersh and St. John's Music Director David Montgomery.  The program features two major works: Benjamin Britten's Lachrymae on two songs by the renaissance master John Dowland, as well as J.S. Bach's delightful Brandenburg Concerto No. 6 in B-flat major.
The concert is a free event.  All are welcome to enjoy the music and a glass of good California wine (also gratis).  A freewill offering will be announced, and donations will go towards maintaining this tradition at St. John's.

Autograph page from the Brandenburg Concerto No. 6
ADULT CHOIR

St. John's Chancel Choir meets on Thursday evenings at 7PM to rehearse in the Parish Hall and Sunday mornings at 9PM to prepare for the 10am service in the Sanctuary.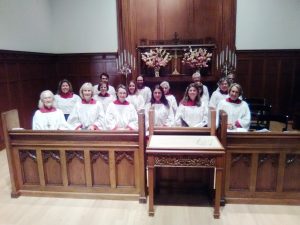 St. John's Adult Choir, Spring 2019
OUR ORGAN
In 1961 the Aeolian-Skinner Company of Boston installed the two-manual, 34-stop forerunner of our present sanctuary organ.  In 2001 J. Nelson and Company enriched the instrument by the addition of 61 digitally-sampled voices and a 3-manual console from the Allen Company in Pennsylvania, allowing the performance of repertoire ranging in style from baroque to contemporary.  The dedicatory concert of the present organ was given by the late Dr. Philip Hahn, then Music Director at St. John's.  Images of the instrument may be viewed here.