OUR MUSIC TODAY
Sunday, August 25, 2019
Our organ music and offertory were written by Charles Gounod (1818-1893), composer of the operas Faust and Romeo and Juliet.  Pupil of Fromental Halévy (1799-1862, composer of "La Juive"), Gounod was the second Gallic internationalist in a succession of four important composers who "connected the dots" between the great German romantic movement and the French impressionists of the twentieth century (e.g. Debussy and Ravel).  Gounod's important students were Camille Saint-Saëns (1835-1921) and Gabriel Fauré (1845-1924), both of whom provided music at his funeral.  Apropos our anthem, it was the north German composer Fanny Mendelssohn who introduced Gounod to the music of Bach, and – after the deaths of both Fanny and her brother Felix – Gounod fitted his now-famous "Ave Maria" to Bach's prelude in their honor.
ADULT CHOIR

St. John's Chancel Choir is taking a well-deserved break for the month of August.  We will start up again on Thursday evenings and Sunday mornings, beginning the Thursday evening after Labor Day at 7PM in the Parish Hall.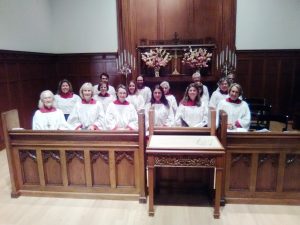 St. John's Adult Choir, Spring 2019
OUR ORGAN
In 1961 the Aeolian-Skinner Company of Boston installed the two-manual, 34-stop forerunner of our present sanctuary organ.  In 2001 J. Nelson and Company enriched the instrument by the addition of 61 digitally-sampled voices and a 3-manual console from the Allen Company in Pennsylvania, allowing the performance of repertoire ranging in style from baroque to contemporary.  The dedicatory concert of the present organ was given by the late Dr. Philip Hahn, then Music Director at St. John's.  Images of the instrument may be viewed here.