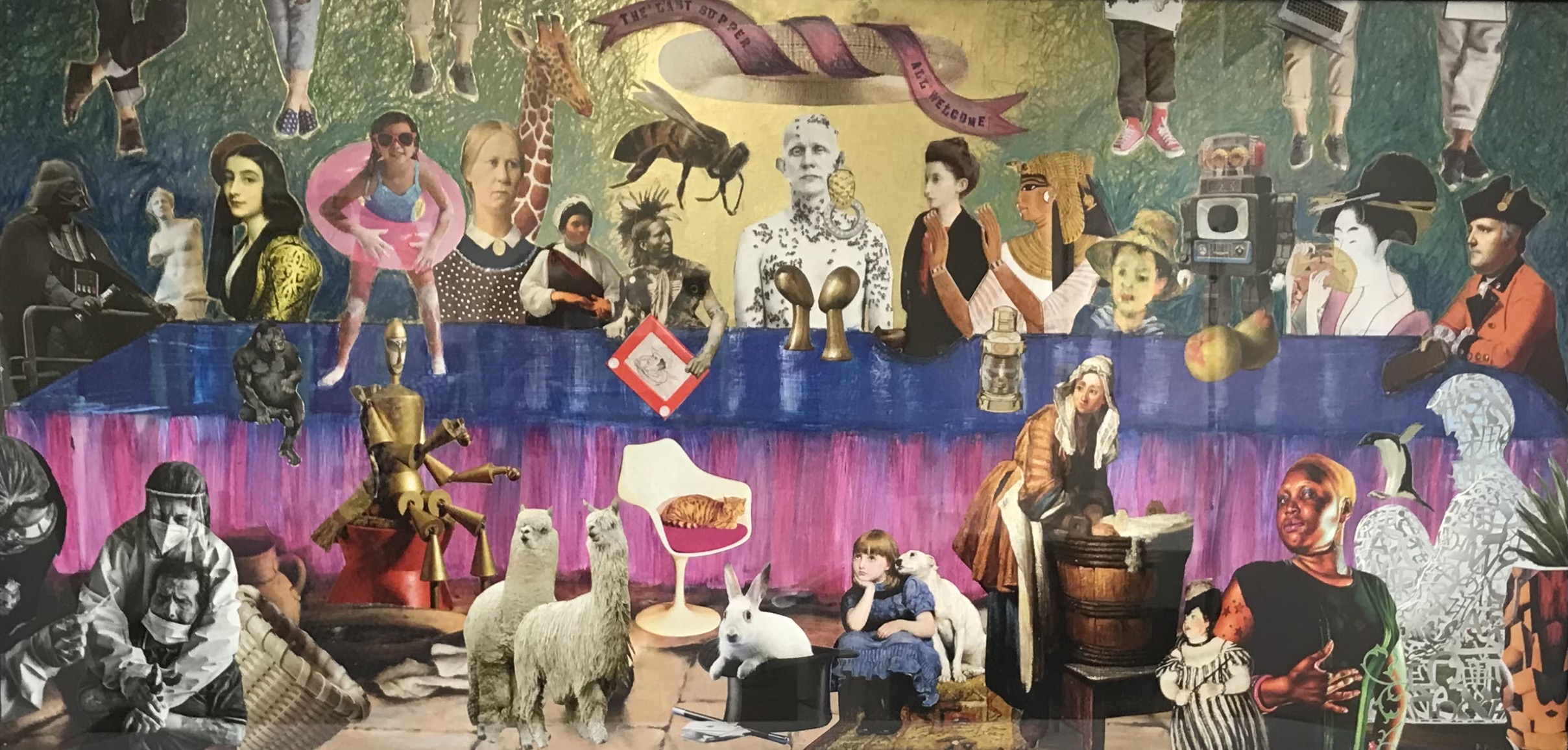 At the 2019 church staff Christmas gift swap, the Rector came away with the gift deemed 'least cool.' It was a dog-eared print showing an alternate Last Supper. (A certain Associate Priest now residing in Boston slipped the gift into the pile of mystery packages.) The print is a reproduction of a painting done by Polish artist, Bohdan Piasecki. In 1998, he was commissioned by an advocacy group to paint the Last Supper in what was thought to be a more historically accurate and inclusive way: a Jewish Passover meal with women and children present.
Earlier this year, in a social media feed, I saw another depiction of the Last Supper, one that used DaVinci's famous painting as the starting point for a collage art piece. I immediately thought of Rev. Chris' Piasecki 'Last Supper' and wondered if that could be reimagined as well. When I asked him about using it as the basis for a new collage, Rev. Chris speedily regifted me his print.
As I started to collect the images for this yet-again-reimagined Last Supper, a question bubbled up, "Who would I want to invite to a sacred meal?" And who should appear? Darth Vader and Venus de Milo. A pair of llamas and a long-necked giraffe. Women and men. Native- and foreign-born. Those from long ago and some from the here and now. The overworked and the idle. The prim and the ravishing. The process of creating this collage became a frame through which I experienced more of myself. Some of the images made me feel uncomfortable but all were permitted to gather around the table. By allowing those different from me to be present, I discovered wholeness. Jesus invited his followers to, "Eat my flesh. Drink my blood." I think of this an invitation to accept my own humanity, in all of its messiness and imperfection.
As a Christian, I wonder what this internal experience of hosting an imaginary banquet feast might might look like in the external world. Can I make room in my life for the stranger, the traveler, the ill, the fanciful, the stoic, or the displaced?