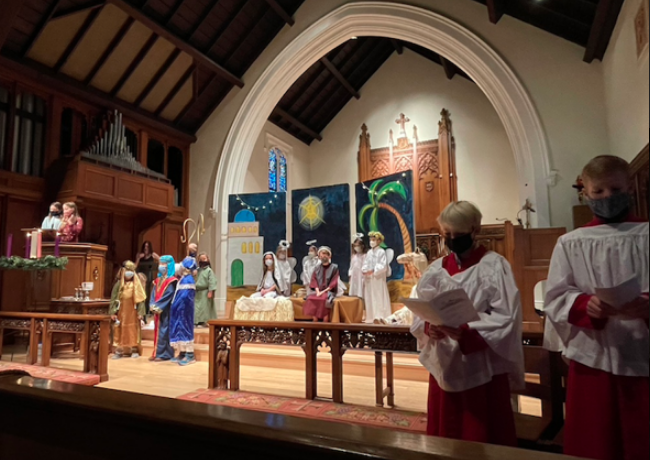 Last Sunday our children told the story of Christmas. They learned songs, memorized lines, practiced their entrances – how they would walk in and where they would stand, they put on their costumes and worked together, transforming the church into a scene from Bethlehem, 2,000 years ago (give or take). I imagine this story is one of the most familiar amidst all of our sacred stories. It evokes warmth and comfort, peace and joy. It conjures up all the feels expressed in Silent Night, where all is calm, all is bright.
And yet this story is also so wild and so strange.
This story begins with a young woman and a terrifying visit from an angel, who first tells her not to be afraid, and then delivers news that would startle and terrify a more seasoned adult. This remarkable woman responds not with fear or disbelief, but with curiosity – with "how?" God was doing a new thing and God needed her help. God invited her to join in this new thing, to share in bringing new life into the world, and to make space for God in our midst, God with us – Emmanuel. The Mother Mary is often depicted as the epitome of serenity, gazing lovingly at her newly born child, but when you peel back the layers a bit, and think about what it meant for this vulnerable young woman to say yes to this startling divine invitation, the depths of her fierce bravery and courageous strength are exposed.
It is the Mother Mary who sits at the center of the Nativity, her gaze lovingly focused on the Christ Child, on God in our midst. She directs our attention to what is important. And she is supported by the quiet and trusting Father Joseph, and surrounded by amazed shepherds, joyous angels, and royal magi who traveled a great distance to kneel in devotion at the feet of a baby.
As the mystery of Christmas approaches may we respond with curiosity, seeking to cultivate space in our hearts and in our lives for Christ to be born, again.